Professional Development Days

'How can our school or a teacher implement Problem Solving into our maths programme and into the classroom?"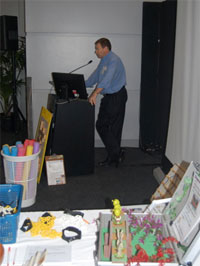 These, and other discussion topics can be covered by our Director, and Presenter, Geoff Todman These can be organised around our visit.
A minimum 2 hour session is needed and can take the format of a workshop during school hours, pupil free days, after school or as a school public relations exercise with parents as an evening sausage sizzle, etc.
We welcome your input and suggestions.
Call now to find out how you can organise a
P.D. Day with Geoff on (07) 5559 5066

---

Links
Why teach Problem Solving?
"Problem Solving is the most important aspect of school mathematics."
---
Photos
+ Click on a photo below to enlarge.

Escape from the maze needs lateral thinking


Can the teachers escpae from the chains?
Parents and teachers at a P.D.D

Big kids helping little kids