"Fun With Maths" is a presentation of colourful, educational activities that are drawn from life challenges that need maths strategies to solve.
+ Click Here to watch more videos..
"Would you like your children to have fun with maths while they learn?"
"Having trouble motivating and keeping some of your students on task for 90 min doing maths?"
"Do you feel that Problem Solving is an important aspect of Mathematics?"
"Would you like us to challenge your Gifted and Talented students with our lateral thinking activities?"
"It's not that I'm so smart, it's just that I stay with problems longer." Albert Einstein , 1879-1955, Physicist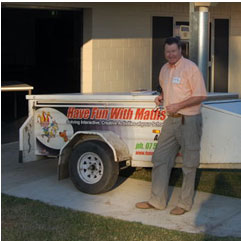 Then look no further, as we make it easy for you.
Our organization will come to your school, set them up, then allow your students (from 5-15 yrs), to solve them.
We can also help you improve your student's ability to:
choose the correct strategy when faced with a problem
improve their creativity
change their attitude into a positive one towards maths.
Here's 5 ways how we can help you by promoting effective maths learning:
We use "hands-on" practical materials

Our activities are learner – centred

They have a real-life context

Are highly linked to play which promotes problem solving, critical thinking, concept formation, creativity skills with social and emotional developments.

They have been designed to develop co-operative team work.

Together we can make a difference! Contact us Now!